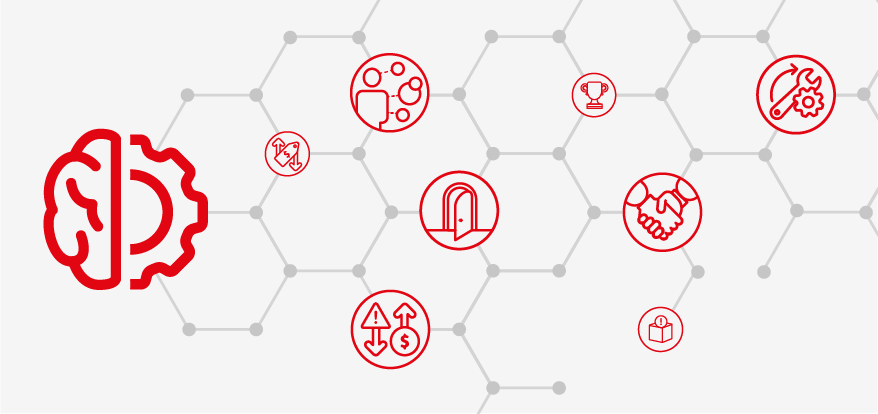 4 Decision Intelligence Use Cases to Prioritize in 2022
As we come into the new year, organizations across industries will deploy Decision Intelligence (see: Defining Decision Intelligence) to help business users know which insights to act on and drive business value. After more than 20 years of visual exploration-based dashboards and reports, the percentage of time users spend in predefined dashboards will decline. DI will automatically surface relevant insights and recommend actions for a given business user depending on their role and context in the organization. Because DI delivers the what, the why and the how for the business user, the need to work in a predefined dashboard and manually explore data will diminish.
Heading into 2022, decision intelligence is one of those technologies you know you should be using, without a clear direction for where to begin. This blog post will give you a better understanding of its strategic importance, Diwo's unique DI capabilities and how to get started.
The competitive advantage of Decision Intelligence
To deal with unprecedented levels of business complexity and uncertainty, organizations must make accurate and highly contextualized decisions more quickly. Gartner has identified decision intelligence as a top strategic technology trend for 2022 and predicts that in the next two years, a third of large organizations will be using DI for structured decision-making, to improve competitive advantage. As the volume of data created throughout the enterprise continues to increase and data pipelines are optimized to enable organizations to make decisions and act in real-time, decision intelligence will become the critical link between massive amounts of data, real-time contextual insight, recommendations and decision-making.
In the era of cloud-scale data, the bottleneck in analytics has shifted from aggregating, accessing and processing data to enabling everyone in an organization to leverage all that collected information and make decisions. With BI tools today, business users struggle to get the contextualized insights they need at the point of decision, so they either give up or go with their gut.  DI will become a major competitive differentiator among data-driven companies from financial services to health care, supply chain, e-commerce & retail and manufacturing to solve the "last mile of analytics" challenge."
How Decision Intelligence works
Decision Intelligence represents the next step in business intelligence and contextual analytics. The DI system analyzes and interprets massive amounts of data instantaneously, delivers explainable insights, then recommends the most feasible actions regarding the data sets and specified business metrics. Leveraging AI, machine learning and natural language processing, DI systems can recommend the most profitable solutions for enabling business users to make rapid, precise decisions to create immediate business value.
Decision intelligence empowers business users to ask questions and get answers to questions like, "Who is our target demographic for this next campaign?", "What impact does a 25% price drop on SKU X have on SKU Y".  It also allows teams to get a very prescriptive recommendation such as "A reduction of 20% of this range of SKU's will reduce excess inventory by 43% and increase gross profit by $313,145."
Decision intelligence delivers consistent, unbiased insights and recommendations from the data itself. AI, automation and machine learning accelerate data analysis to take full advantage of your data environment, while eliminating human bias and error. Here's where it's best applied.
4 key Decision Intelligence use cases
So where should you start? For most businesses, Decision Intelligence will start with routine decision-making. These implementations will revolve around business users that routinely make decisions day in and day out to maximize business value.  Supply chain, merchandising, logistics, credit decisions, portfolio optimization, and quality manufacturing process all routinely have dozens of users looking at data to try and figure out how to maximize against a set of KPIs or goals.  Ultimately, when several users must consistently take steps to increase revenue, lower costs, or boost productivity, decision intelligence provides a prescriptive means of quickly improving performance.  Any performance.  Here are a few practical applications for DI that any company can use today.
#1 – Anticipate and solve supply chain opportunities and disruptions
After the last two years, every business has been looking for ways to spot supply chain opportunities and disruptions with the utmost accuracy. Even if we can spot a problem, the challenge is that it is very labor-intensive, time-consuming, and inefficient to actually solve the identified issue.
Decision Intelligence systems can help companies look ahead with greater ease and confidence. DI platforms can identify risks and make specific recommendations for taking action to avoid damaging business impact. And if a dynamic event disrupts your supply chain, DI can be used to take action to successfully address the situation immediately.
#2 – Find the line between overstocking and running out of stock
A logistical constraint that's more familiar to businesses is the tightrope of managing your inventory. You never want to have more products than you need, nor do you want more customers than you have goods in stock. Unfortunately, the process most businesses are using today to walk this line is a mix of data, guesswork, and experienced intuition.
By using Decision Intelligence, you can manage your stock with more predictable success. DI technology is excellent at predicting when products are about to become hot or cold, when your margin has or hasn't reached a point where changing your stock makes sense, and otherwise syncing up your supply with consumer demand. The recommendations from a DI system are very prescriptive and actionable such as "Move 1000 units of SKU XYZ from the Mid-Ohio DC to the Ft. Worth DC by the 12th of this month"
#3 – Provide a single point of truth
Another critical use for Decision Intelligence is that it acts as a single point of truth for your team. Today, when sharing new data with your team, you may have to spend hours explaining what the data means, why it's valid, listening to counterpoints, and working to confirm that what you think is true for your business is, in fact, trustworthy.
Decision Intelligence eliminates the need for these conversations. With a DI platform, you have a nexus of truth that everyone on your team can refer to and trust. You know that the collected insights generated are unbiased, accurate, and reliable. This allows you to act faster and reduces conflict within your team.
#4 – Target customers with precision
With all of the accuracy, precision, and speed that Decision Intelligence offers, it should come as no surprise that it can be a very effective marketing tool indeed. It does most of the heavy lifting for you: just plug it into your customer data and start making marketing decisions from data-generated recommendations with predictable success. A credit card issuer could receive an unequivocal and concise recommendation. "Raise the credit limit on the following accounts by 14%, and the associated spend will increase by 9% on average generating $278,000 in additional revenue". 
DI can tell you explicitly what segment of your customers would purchase a particular product and at what price points.  The impact on Marketing and Merchandising is both immediate and measurable.
With Decision Intelligence, you can quickly catch on to these opportunities. You'll know when your customers are interested in a product that you can start offering. You can see how many of your customers are currently interested and can be brought in-market for that product, and you can then begin marketing it to that segment of your customer base instantly.
Get your business on track with Decision Intelligence
Decision Intelligence is the obvious answer for companies who want to move beyond traditional BI dashboards and reports to streamline and speed decision-making across a wide range of use cases. If you are a decision-maker for your company today, it's hard to be confident that you've sifted through all the relevant data and considered all the relevant factors for your particular question. As datasets grow, this only becomes harder, more time consuming and error prone. Diwo's Decision Intelligence platform delivers contextualized insights on what's happening in your data and why metrics change, but also provides explainable insights and actionable recommendations using the whole width of the dataset and does so really quickly.
Decision intelligence uses the same data and infrastructure as your legacy BI tools, making the transition relatively straightforward. If you are ready to evolve beyond BI dashboards and get to better decisions faster, read the solution brief Getting Started with Decision Intelligence.