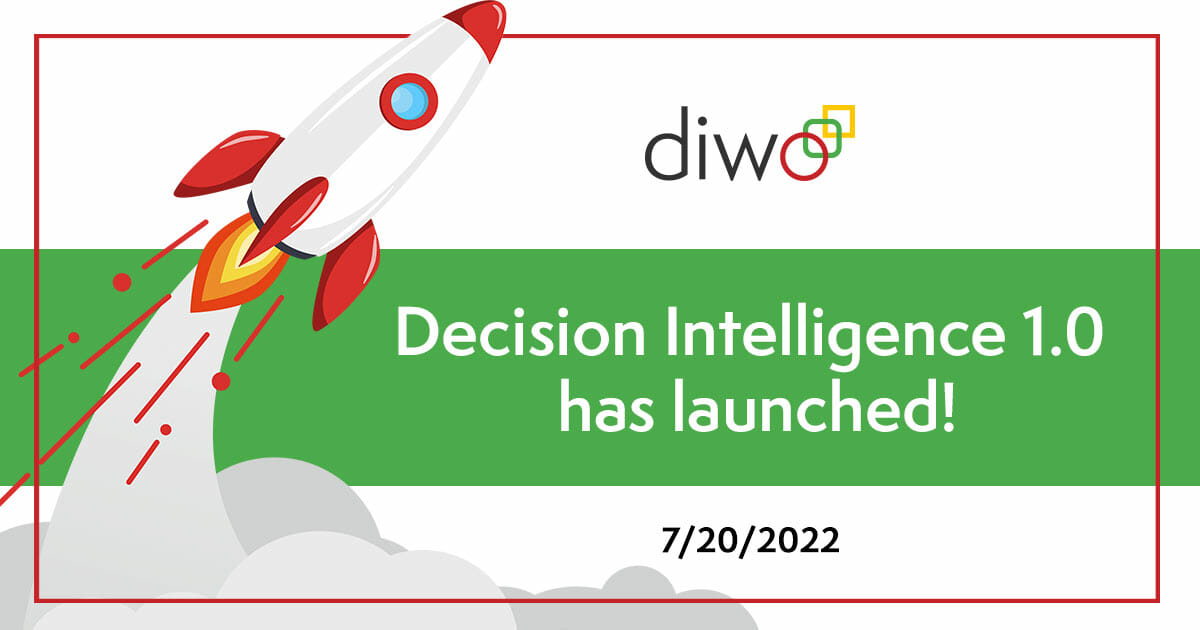 Diwo Decision Intelligence 1.0 is Now Available
Krishna Kallakuri – CEO, Diwo.ai
Today I'm proud to announce the general availability of the Diwo Decision Intelligence (DI) platform. Diwo's mission is to close the gap between insight and action and empower business users to make better data-driven decisions, faster, in turn driving an immediate and measurable business impact. We're all about building a better, more modern analytics experience and transforming decision-making by leveraging the latest advancements in AI, machine learning, contextual intelligence, graph technologies, low-code development tools, UX and the modern data stack.
Before I started Diwo in 2017, I ran a consulting firm to build dashboard and BI reports at Fortune 2000 companies. When I first started building dashboards, there wasn't a lot of data like there is today, so it was easy to build a dashboard that showed the key metrics. Despite being the default approach to BI and analytics, dashboards failed to deliver on the promise of providing timely insights in a way that makes it easy for users to understand, quantify and act upon them – primarily because insights were not contextualized. More and more business users wanted to use their dashboards to answer questions like "why are metrics changing?" and "what do I do about it?" Knowing what happened via a dashboard or static report was no longer sufficient to keep up with the accelerating pace of change and the exponential growth of data. It's a harsh truth, but without actionable insights and business outcomes, data in dashboards is nothing more than numbers and charts with no real value.
This problem is so pervasive that Gartner warned in Top Trends in Data and Analytics 2020, "Business people still struggle to know which insights to take action on, even with modern analytics and business intelligence (A&BI) platforms, insights are not contextualized, easily consumable or actionable by the majority of users … (they) are drowning in data and especially as the complexity of data increases, they are struggling to identify what is most important and what are the best actions to take." In addition, as more organizations implement modern data pipelines and cloud data warehouses, they can no longer rely on traditional BI tools to analyze their data at the speed or scale required for today's dynamic and increasingly digitized world.
Empowering employees to make faster, smarter decisions that drive better outcomes is essential to success. Doing so requires breaking free from BI tools of the past. Today, we're fully ready to deliver on this vision as I announce the general availability of Diwo Decision Intelligence Platform 1.0.
So what exactly are we launching?
A unified Decision Intelligence platform that pushes the boundaries of the traditional BI dashboard paradigm. 
Customized Decision Flow and UI for each use case.
Low-code tools to easily combine data + analytics + decision flows to build customized, intelligent apps that not only deliver insights but also drive action in the business moment through recommendations. 
Insight Engine to automatically surface, synthesize and correlate insights from your data.
Machine Learning Model Orchestrator to turn the output of your ML models into contextualized recommendations for improved decision-making.
Patented Contextual Intelligence – a system that continuously analyzes all of the streams of data a business may have, identifying opportunities that will make a significant impact on business objectives.
Diwo is unique because of its focus on decisions, not dashboards. In contrast to the traditional BI approach, decision intelligence powered by Diwo enables a much more streamlined analytics process. The DI engine continuously analyzes all of the streams of data a business may have, identifying opportunities that will make a significant impact on business objectives, then packaging and presenting a fully developed recommendation in narrative form, ready to be acted upon. Diwo further accelerates decision-making by giving users AI-powered recommendations via a customized UI, not a dashboard. Human decision-makers are spared all of the analytical toil and burden of interpreting endless BI dashboards and reports while maintaining final decision control over which strategies to deploy – strategies that can deliver significant impact to the bottom line.
The decisioning layer for modern data infrastructure
Additionally, the way people work with data is going through a metamorphosis, with data literacy exploding, specialization around data-specific roles, the rise of data products and a general democratization of not just access to data but also of the whole "analytics process." Increasingly, modern teams across the business use data every day to power their work and inform their decisions. Most people who make decisions in companies are non-technical and in order for them to become more data-driven, they need to embrace tools that will enable them to derive insight without the help of the data science or business analytics team. Our platform is built with that in mind, powering the decisioning layer and integrating with the best-in-breed solutions in the modern data stack that teams are using and migrating towards today.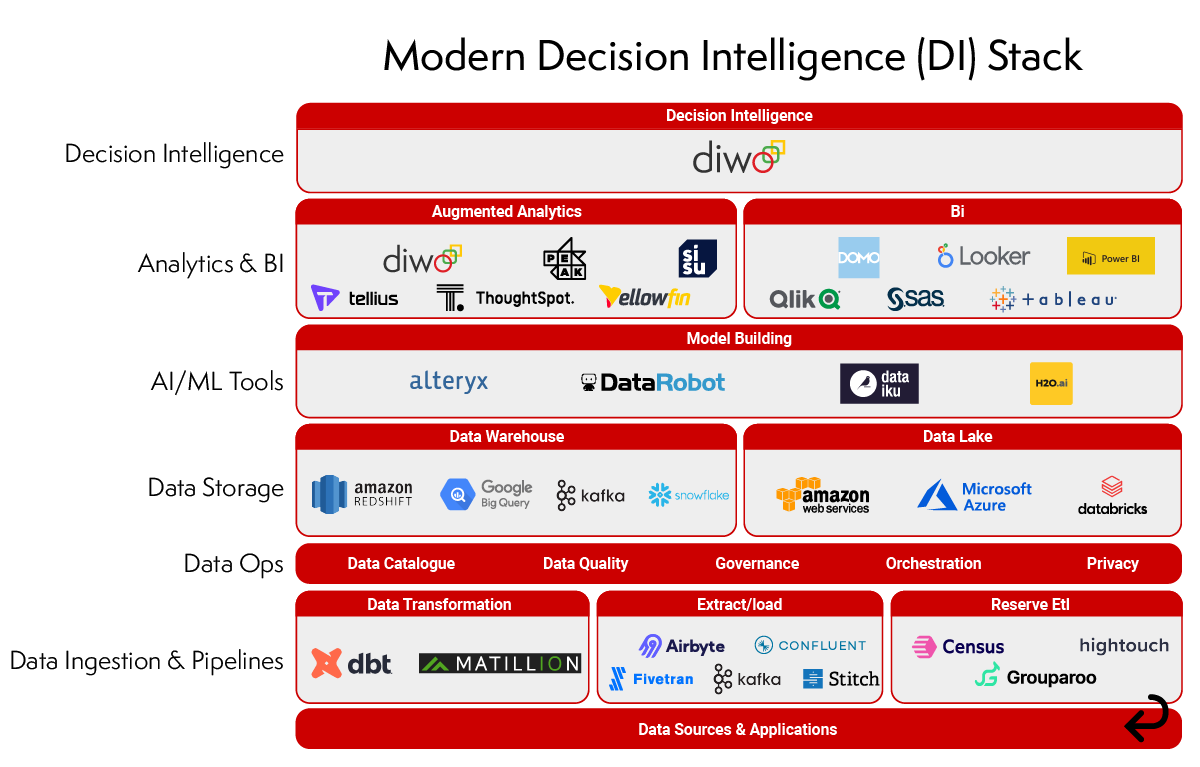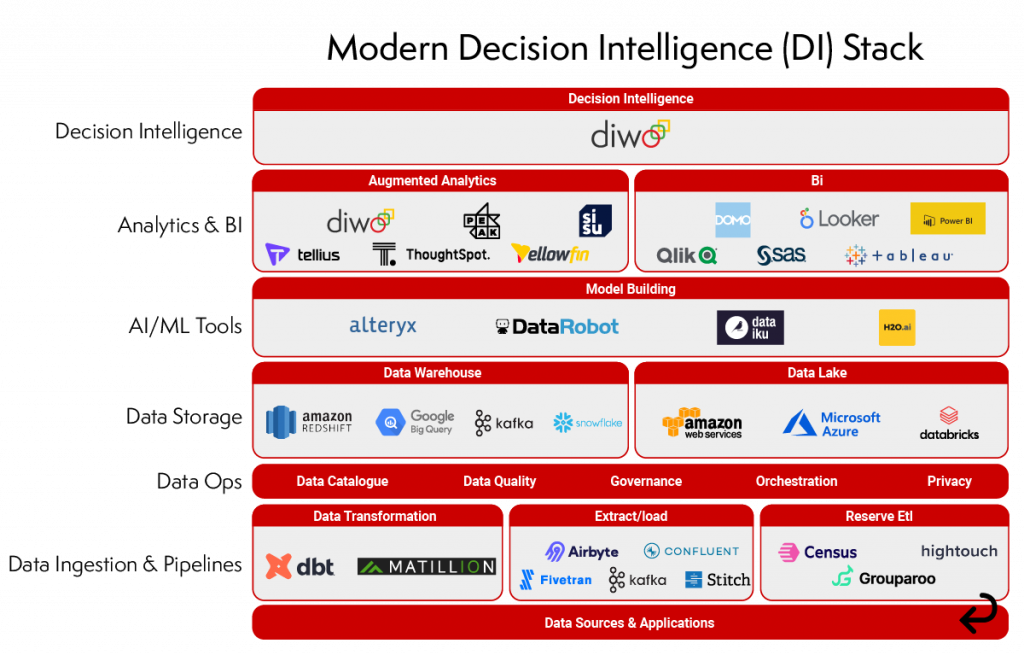 Decisions, not dashboards
At the end of the day, without a connection to business outcomes, analytics is useless. At Diwo we've recognized the flaws of the dashboard over many years. That's why we've built a solution that automates the challenge of discovering contextual insight and delivering actionable recommendations in a highly intuitive way to close the gap between insight and action (a.k.a. the last mile of analytics challenge). We are incredibly excited about this product and think it's going to change the paradigm of the dashboard and how business users approach data-driven decision-making.
Welcome to the era of Decision Intelligence!